Ocellated Turkey
General Information
Universe
Real Life
Classification
Meleagris ocellata
Species Type
Turkey
Homeworld
Earth
Environment
Yucatán Peninsula Mexico
Intelligence
Non-sapient
Biochemistry
Carbon-based lifeform
Biological Information
Average Weight
Males: 5 kg (11 lbs)
Females: 3 kg (6.6 lbs)
Average Length
70–122 cm (28–48 in)
Locomotion
Bipedal walking
Powered flight
Predators
Jaguar
Lineage Information
Related Species

Wild Turkey

Cultural Information
Alignment
Neutral
Sociocultral characteristics
Scientific Taxonomy
Planet
Earth
Domain
Eukaryota
Kingdom
Animalia
Phylum
Chordata
Class
Aves
Order
Galliformes
Family
Phasianidae
Genus
Meleagris
Species
ocellata
Other Information
Status
Near Threatened
The ocellated turkey (Meleagris ocellata) is a species of turkey residing primarily in the Yucatán Peninsula. They are a close relative of the wild turkey (Meleagris gallopavo), currently considered too small to justify generic segregation. It is a relatively large bird, at around 70–122 cm (28–48 in) long and an average weight of 3 kg (6.6 lbs) in females and 5 kg (11 lbs) in males.
The ocellated turkey lives only in a 130,000 km2 (50,000 sq mi) range in the Yucatán Peninsula in Mexico—which includes all or part the states of Quintana Roo, Campeche, Yucatán, Tabasco, and Chiapas—as well as the northern parts of Belize and Guatemala.
Description
[
]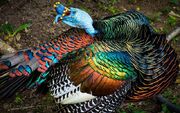 The body feathers of both sexes are a mixture of bronze and green iridescent color. Although females can be duller with more green, the breast feathers do not generally differ and can not be used to determine sex. Neither sex possesses the beard typically found in wild turkeys. Tail feathers of both sexes are bluish-grey with an eye-shaped, blue-bronze spot near the end with a bright gold tip. The spots, or ocelli (located on the tail), for which the ocellated turkey is named, have been likened to the patterning typically found on peafowl. The upper, major secondary wing coverts are rich iridescent copper. The primary and secondary wing feathers have similar barring to that of North American turkeys, but the secondaries have more white, especially around the edges.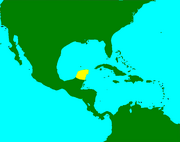 Both sexes have blue heads with some orange or red nodules, which are more pronounced on males. The males also have a fleshy blue crown covered with nodules, similar to those on the neck, behind the snood. During breeding season this crown swells up and becomes brighter and more pronounced in its yellow-orange color. The eye is surrounded by a ring of bright red skin, which is most visible on males during breeding season. The legs are deep red and are shorter and thinner than on North American turkeys. Males over one year old have spurs on the legs that average 4 cm (1.5 inches), which lengths of over 6 cm (2.5 inches) being recorded. These spurs are much longer and thinner than on North American turkeys.
Ocellated turkeys are much smaller than any of the subspecies of North American wild turkey, with adult hens weighing about 4 kg (8 pounds) before laying eggs and 3 kg (6–7 pounds) the rest of the year, and adult males weighing about 5–6 kg (11–15 pounds) during breeding season.
Behavior
[
]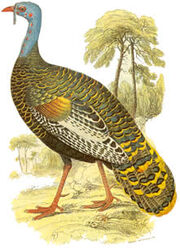 Turkeys spend most of the time on the ground and often prefer to run to escape danger through the day rather than fly, though they can fly swiftly and powerfully for short distances as the majority of birds in this order do in necessity. Roosting is usually high in trees away from night-hunting predators such as jaguars and usually in a family group.
Female ocellated turkeys lay 8–15 eggs in a well concealed nest on the ground. She incubates the eggs for 28 days. The young are precocial and able to leave the nest after one night. They then follow their mother until they reach young adulthood when they begin to range though often re-grouping to roost.
The voice is similar to the northern species: the male making the "gobbling" sound during the breeding season, while the female bird makes a "clucking" sound. However, male ocellated turkey do not gobble like the wild turkey, per se. Rather, his song is distinct and includes some six to seven bongo-like bass tones which quicken in both cadence and volume until a crescendo is reached whereupon the bird's head is fully erect while he issues forth a rather high-pitched but melodious series of chops. The ocellated turkey will typically begin his singing 20 to 25 minutes before sunrise—similar to the wild turkeys in North America.