The Kakapo (Māori: kākāpō, night parrot), also called owl parrot, is a species of large, flightless, nocturnal, ground-dwelling parrot endemic to New Zealand. It has finely blotched yellow-green plumage, a distinct facial disc of sensory, vibrissa-like feathers, a large grey beak, short legs, large feet, and wings and a tail of relatively short length. A certain combination of traits makes it unique among its kind; it is the world's only flightless parrot, the heaviest parrot, nocturnal, herbivorous, visibly sexually dimorphic in body size, has a low basal metabolic rate, no male parental care, and is the only parrot to have a polygynous lek breeding system. It is also possibly one of the world's longest-living birds.
The Kakapo is critically endangered. Because of Polynesian and European colonisation and the introduction of predators such as cats, rats, ferrets, and stoats, the Kakapo was almost wiped out.
Description
Edit
The Kakapo is a large, rotund parrot; the male measures up to 60 cm (24 in) and weighs from 2 to 4 kg (4 to 9 lb) at maturity. The Kakapo cannot fly, having short wings for its size and lacking the pronounced keel bone (sternum) that anchors the flight muscles of other birds. It uses its wings for balance, support, and to break its fall when leaping from trees. Unlike other land birds, the Kakapo can accumulate large amounts of body fat to store energy, making it the heaviest parrot.
The upper parts of the Kakapo have yellowish moss-green feathers barred or mottled with black or dark brownish grey, blending well with native vegetation. Individuals may have strongly varying degrees of mottling and colour tone and intensity – museum specimens show that some birds had completely yellow colouring. The breast and flank are yellowish-green streaked with yellow. The belly, undertail, neck and face are predominantly yellowish, streaked with pale green and weakly mottled with brownish-grey. Because the feathers do not need the strength and stiffness required for flight, they are exceptionally soft. The Kakapo has a conspicuous facial disc of fine feathers, resembling the face of an owl; thus, early European settlers called it the "owl parrot". The beak is surrounded by delicate vibrissae or "whiskers", which the bird uses to sense the ground for navigation as it walks with its head lowered. The mandible is mostly ivory-coloured, with part of the upper mandible being bluish-grey. The eyes are dark brown. Kakapo feet are large, scaly, and, as in all parrots, zygodactyl (two toes face forward and two backward). The pronounced claws are particularly useful for climbing. The ends of the tail feathers often become worn from being continually dragged on the ground.
The female is easily distinguished from the male: she has a more narrow and less domed head, her beak is narrower and proportionally longer, her cere and nostrils smaller, her legs and feet more slender and pinkish grey, and her tail proportionally longer. While her plumage colour is not very different from that of the male, the toning is more subtle, with less yellow and mottling. She tends to resist more and be more aggressive than the male when handled. A nesting female also has a brood patch on the bare skin of the belly.
Like many parrots, the Kakapo has a variety of calls. As well as the booms and chings of their mating calls, it will often skraark to announce its location to other birds.
The Kakapo has a well-developed sense of smell, which complements its nocturnal lifestyle. It can discriminate among odours while foraging; a behaviour reported for only one other parrot species. One of the most striking characteristics of the Kakapo is its pleasant and powerful odour, which has been described as musty. Given the Kakapo's well-developed sense of smell, this scent may be a social chemosignal. The smell often alerts predators to the largely defenceless Kakapo.
The skeleton of the Kakapo differs from other parrots in several features associated with flightlessness. Firstly, it has the smallest relative wing size of any parrot. Its wing feathers are shorter, more rounded, less asymmetrical, and have fewer distal barbules to lock the feathers together. The sternum is small, and has a low, vestigial, keel, and a shortened spina externa. As in other flightless birds and some other flighted parrots, the furcula is not fused, but consists of a pair of clavicles lying in contact with each coracoid. As in other flightless birds, the angle between the coracoid and sternum is enlarged. The Kakapo has a larger pelvis than other parrots. The proximal bones of the leg and arm are disproportionately long and the distal elements are disproportionately short.
The pectoral musculature of the Kakapo is also modified by flightlessness. The pectoralis and supracoracoideus muscles are greatly reduced. The propatagialis tendo longus has no distinct muscle belly. The sternocoracoideus is tendinous. There is an extensive cucularis capitis clavicularis muscle that is associated with the large crop.
Ecology and behavior
Edit
It seems that the Kakapo – like many of New Zealand's bird species – has evolved to occupy an ecological niche normally filled by various species of mammal (the only non-marine mammals native to New Zealand are three species of small bats). Before the arrival of humans, the Kakapo was distributed throughout the three main islands of New Zealand. It lived in a variety of habitats, including tussocklands, scrublands and coastal areas. It also inhabited forests, including those dominated by podocarps (rimu, matai, kahikatea, totara), beeches, tawa, and rata. In Fiordland, areas of avalanche and slip debris with regenerating and heavily fruiting vegetation – such as five finger, wineberry, bush lawyer, tutu, hebes, and coprosmas – became known as "Kakapo gardens".
The Kakapo is primarily nocturnal; it roosts under cover in trees or on the ground during the day and moves around its territories at night.
Though the Kakapo cannot fly, it is an excellent climber, ascending to the crowns of the tallest trees. It can also "parachute" – descending by leaping and spreading its wings. In this way it may travel a few metres (yards) at an angle of less than 45 degrees.
Having lost the ability to fly, it has developed strong legs. Movement is often by way of a rapid "jog-like" gait by which it can move many kilometres.[17] A female has been observed making two return trips each night during nesting from her nest to a food source up to 1 km (0.6 mi) away[23] and the male may walk from its home range to a mating arena up to 5 km (3 mi) away during the mating season (October–January).[24]
Young birds indulge in play fighting, and one bird will often lock the neck of another under its chin. The Kakapo is curious by nature and has been known to interact with humans. Conservation staff and volunteers have engaged extensively with some Kakapo, which have distinct personalities.
The Kakapo was a very successful species in pre-human New Zealand, and one of the reasons for this was their set of adaptations to effectively avoid predation from native birds of prey, which were their only predators in the past. However, these same behaviours have been of no use to them when faced with the mammalian predators which were introduced to New Zealand after human settlement, because these hunt in different ways. As hunters, birds behave very differently from mammals, relying on their powerful vision to find prey, and thus they usually (with the exception of owls) hunt by day. Apart from the two surviving New Zealand raptors, the New Zealand Falcon and Swamp Harrier, there were two other birds of prey in pre-human New Zealand: Haast's Eagle and Eyles' Harrier. All four species soared overhead searching for prey in daylight, and to avoid these avian predators, the Kakapo's ancestors adopted camouflaged plumage and became nocturnal. In addition, when the Kakapo feels threatened, it freezes, so that it is more effectively camouflaged in the forest vegetation which their plumage resembles. It was not entirely safe at night, when the Laughing Owl was active, and it is apparent from their nest deposits on Canterbury limestone cliffs that the Kakapo was among their prey.
Mammalian predators, in contrast to birds, rely on their sense of smell and hearing to find prey and often hunt by night. The Kakapo's adaptations to avoid avian predation have thus been useless against its new enemies – this is one of the reasons for its massive decline since the introduction of dogs, cats and mustelids.
The beak of the Kakapo is adapted for grinding food finely. For this reason, the Kakapo has a very small gizzard compared to other birds of their size. It is generally herbivorous, eating native plants, seeds, fruits, pollen and even the sapwood of trees. A study in 1984 identified 25 plant species as Kakapo food. It is particularly fond of the fruit of the rimu tree, and will feed on it exclusively during seasons when it is abundant. The Kakapo has a distinctive habit of grabbing a leaf or frond with a foot and stripping the nutritious parts of the plant out with its beak, leaving a ball of indigestible fiber. These little clumps of plant fibres are a distinctive sign of the presence of the bird. The Kakapo is believed to employ bacteria in the foregut to ferment and help digest plant matter.
Kakapo diet changes according to the season. The plants eaten most frequently during the year include some species of Lycopodium ramulosum, Lycopodium fastigium, Schizaea fistulosa, Blechnum minus, Blechnum procerum, Cyathodes juniperina, Dracophyllum longifolium, Olearia colensoi and Thelymitra venosa. Individual plants of the same species are often treated differently. The Kakapo leaves conspicuous evidence of their feeding activities, from 10×10 m (30×30 ft) to 50×100 m (160×300 ft) feeding ground areas. Manuka and yellow silver pine scrubs are obvious signs of its centre of feeding activities.
Reproduction
Edit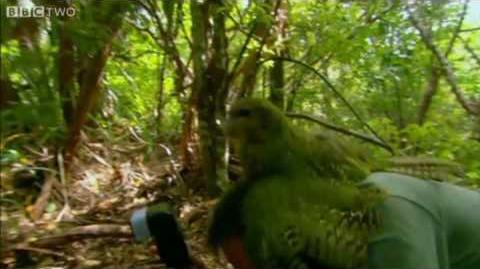 The Kakapo is the only species of flightless parrot in the real world, and the only flightless bird that has a lek breeding system. Males loosely gather in an arena and compete with each other to attract females. Females listen to the males as they display, or "lek". They choose a mate based on the quality of his display; they are not pursued by the males in any overt way. No pair bond is formed; males and females meet only to mate.
During the courting season, males leave their home ranges for hilltops and ridges where they establish their own mating courts. These leks can be up to 7 kilometres (4 mi) from a Kakapo's usual territory and are an average of 50 metres (160 ft) apart within the lek arena. Males remain in the region of their court throughout the courting season. At the start of the breeding season, males will fight to try to secure the best courts. They confront each other with raised feathers, spread wings, open beaks, raised claws and loud screeching and growling. Fighting may leave birds with injuries or even kill them.
Each court consists of one or more saucer-shaped depressions or "bowls" dug in the ground by the male, up to 10 centimetres (4 in) deep and long enough to fit the half-metre length of the bird. The Kakapo is one of only a handful of birds in the world which actually constructs its leks. Bowls are often created next to rock faces, banks, or tree trunks to help reflect sound - the bowls themselves function as amplifiers to enhance the projection of the males' booming mating calls. Each male's bowls are connected by a network of trails or tracks which may extend 50 metres (160 ft) along a ridge or 20 metres (60 ft) in diameter around a hilltop. Males meticulously clear their bowls and tracks of debris. One way researchers check whether bowls are visited at night is to place a few twigs in the bowl; if the male visits overnight, he will pick them up in his beak and toss them away.
To attract females, males make loud, low-frequency (below 100 Hz) booming calls from their bowls by inflating a thoracic sac. They start with low grunts, which increase in volume as the sac inflates. After a sequence of about 20 loud booms, the male Kakapo emits a high frequency, metallic "ching" sound. He stands for a short while before again lowering his head, inflating his chest and starting another sequence of booms. The booms can be heard at least one kilometre (0.6 mi) away on a still night; wind can carry the sound at least five kilometres (3 mi). Males boom for an average of eight hours a night; each male may produce thousands of booms in this time. This may continue every night for three or four months during which time the male may lose half his body weight. Each male moves around the bowls in his court so that the booms are sent out in different directions. These booms are also notorious for attracting predators, because of the long range at which they can be heard.
Females are attracted by the booms of the competing males; they too may need to walk several kilometres from their territories to the arena. Once a female enters the court of one of the males, the male performs a display in which he rocks from side to side and makes clicking noises with his beak. He turns his back to the female, spreads his wings in display and walks backwards towards her. The duration of attempted copulation is between 2 to 14 minutes. Once the birds have mated, the female returns to her home territory to lay eggs and raise the chicks. The male continues booming in the hope of attracting another female.
The female Kakapo lays 1-2 eggs (rarely 3) per breeding cycle, with long intervals between laying of first and second eggs. She nests on the ground under the cover of plants or in cavities such as hollow tree trunks. The female incubates the eggs faithfully, but is forced to leave them every night in search of food. Predators are known to eat the eggs and the embryos inside can also die of cold in the mother's absence. Kakapo eggs usually hatch within 30 days, bearing fluffy grey chicks that are quite helpless. After the eggs hatch, the female feeds the chicks for three months, and the chicks continue to remain with the female for some months after fledging. The young chicks are just as vulnerable to predators as the eggs, and young have been killed by many of the same predators that attack adults. Chicks leave the nest at approximately 10 to 12 weeks of age. As they gain greater independence, their mothers may feed the chicks sporadically for up to 6 months.
Because the Kakapo is long-lived, with an average life expectancy of 95 years and the maximum at about 120 years, it tends to have an adolescence before it starts breeding. Males do not start to boom until about 5 years of age. It was thought that females reach sexual maturity at 9 years of age; but this idea was debunked in the 2008 breeding season when two 6-year-old females named Apirama and Rakiura laid eggs. Generally females do not seek out males until they are between 9 and 11 years old. The Kakapo does not breed every year and has one of the lowest rates of reproduction among birds. Breeding occurs only in years when trees mast (fruit heavily), providing a plentiful food supply. Rimu mast occurs only every three to five years, so in rimu-dominant forests such as those on Codfish Island, Kakapo breeding occurs as infrequently.
Another interesting aspect of the Kakapo's breeding system is that a female can alter the sex ratio of her offspring depending on her condition. A female who eats protein-rich foods produces more male offspring (males have 3%–40% more body weight than females). Females produce offspring biased toward the dispersive sex when competition for resources (such as food) is high and toward the non-dispersive sex when food is plentiful. A female Kakapo will likely be able to produce eggs even when there are few resources, while a male Kakapo will be more capable of perpetuating the species when there are plenty, by mating with several females. This supports the Trivers–Willard hypothesis. The relationship between clutch sex ratio and maternal diet has conservation implications, because a captive population maintained on a high quality diet will produce fewer females and therefore fewer individuals valuable to the recovery of the species.
Community content is available under
CC-BY-SA
unless otherwise noted.