Kabutops
General Information
Universe
Pokémon
Classification
Kabutops maximus
Biological Information
Locomotion
Bipedal
Distinctive Features
Sword-like claws, brown shell, bipedal stance
Lineage Information
Ancestor(s)
Kabuto
Cultural Information
Sociocultral characteristics
Scientific Taxonomy
Planet
Pokémon world
Domain
Eukaryota
Kingdom
Animalia
Subphylum
Chelicerata
Order
Xiphosura
Suborder
Xiphosurida
Family
Limulidae
Genus
Kabutops
Species
K. maximus
Other Information
Status
Extinct in the wild
Kabutops is an arthropod Pokémon and the evolved from of Kabuto, starting at level 40.
Biology
[
]
It is a rock/water type with a bipedal stance, and huge sword-like claws. Despite being an arthropod, it has an endoskeleton for some reason.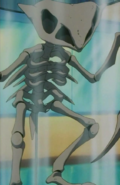 Reproduction
[
]
It belongs to the water 1 and 3 egg groups, and its gender ratio is 87.5% male, 12.5% female.