The golden jellyfish are a species of jellyfish most closely related to the spotted jelly (Mastigias papua) that inhabit the lagoons nearby Jellyfish Lake, Eil Malk Island. They are similar to their ancestors in that they derive part of their nutrition from symbiotic algae (Zooxanthellae) that live in their tissues and part of their nutrition from captured zooplankton.
However, the golden jellyfish are morphologically, physiologically, and behaviorally distinct from the spotted jellyfish. They are easily distinguished from the spotted jellyfish by the almost complete loss of spots on the exumbrella and the almost complete loss of their clubs, an appendage attached to the oral arms. This evolution started millions of years ago when Jellyfish Lake became isolated, leading to their loss of most of their stinging capabilities to focus on the cultivation of algae. This transformation led to them beginning to migrate and follow the sun in order to feed the algae in question and thereby feed themselves.
Jellyfish lake is known to have millions of these golden cnidarians.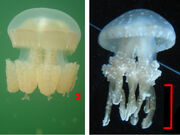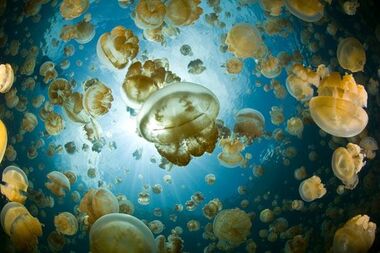 Community content is available under
CC-BY-SA
unless otherwise noted.