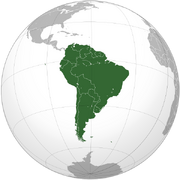 South America is one of the Earth's 7 continents, located in the Western Hemisphere, mostly in the Southern Hemisphere, with a relatively small portion in the Northern Hemisphere.
It is bordered on the west by the Pacific Ocean and on the north and east by the Atlantic Ocean; North America and the Caribbean Sea lie to the northwest. It includes twelve sovereign states – Argentina, Bolivia, Brazil, Chile, Colombia, Ecuador, Guyana, Paraguay, Peru, Suriname, Uruguay, and Venezuela – and two non-sovereign areas – French Guiana, an overseas department of France, and the Falkland Islands, a British Overseas Territory (though disputed by Argentina). In addition to this, the ABC islands of the Netherlands and Trinidad and Tobago may also be considered part of South America.
Trending pages
All items (21)
Community content is available under
CC-BY-SA
unless otherwise noted.