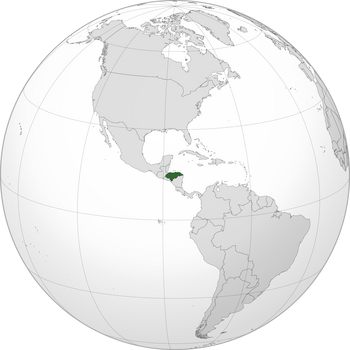 Honduras, officially the Republic of Honduras, is a country in Central America. The republic of Honduras is bordered to the west by Guatemala, to the southwest by El Salvador, to the southeast by Nicaragua, to the south by the Pacific Ocean at the Gulf of Fonseca, and to the north by the Gulf of Honduras, a large inlet of the Caribbean Sea.
It spans about 112,492 km2 (43,433 sq mi). The region is considered a biodiversity hotspot because of the many plant and animal species found there. Like other countries in the region, it contains vast biological resources. Honduras hosts more than 6,000 species of vascular plants, of which 630 (described so far as of January 2020) are orchids; around 250 reptiles and amphibians, more than 700 bird species, and 110 mammalian species, of which half are bats.
Honduras has rain forests, cloud forests (which can rise up to nearly 3,000 metres or 9,800 feet above sea level), mangroves, savannas and mountain ranges with pine and oak trees, and the Mesoamerican Barrier Reef System. In the Bay Islands there are Bottlenose Dolphins, manta rays, parrotfish, schools of blue tang and Whale Sharks.
All items (5)