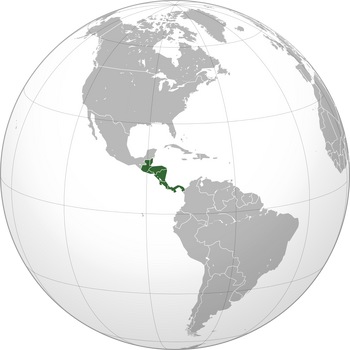 Central America is a region found in the southern tip of North America and is sometimes defined as a subcontinent of the Americas. This region is bordered by Mexico to the north, Colombia to the southeast, the Caribbean Sea to the east and the Pacific Ocean to the west and south. Central America consists of seven countries: Belize, Costa Rica, El Salvador, Guatemala, Honduras, Nicaragua and Panama.
Central America is a part of the Mesoamerican biodiversity hotspot, which extends from northern Guatemala to central Panama. It boasts 7% of the entire Planet Earth's] biodiversity. The Pacific Flyway is a major north-south flyway for migratory birds in the Americas, extending from Alaska to Tierra del Fuego. Due to the funnel-like shape of its land mass, migratory birds can be seen in very high concentrations in Central America, especially in the spring and autumn. As a bridge between North America and South America, Central America has many species from the Nearctic and the Neotropic ecozones. However the southern countries (Costa Rica and Panama) of the region have more biodiversity than the northern countries (Guatemala and Belize), meanwhile the central countries (Honduras, Nicaragua and El Salvador) have the least biodiversity.
Trending pages
All items (20)
A
B
C
F
H
I
K
L
M
N
O
R
S
T
Community content is available under
CC-BY-SA
unless otherwise noted.