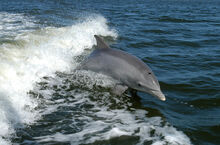 Bottlenose dolphins
, the genus 
Tursiops
, are the most common members of the family Delphinidae, the family of oceanic dolphin.
[2]
 Molecular studies show the genus contains three species: the common bottlenose dolphin (
Tursiops truncatus
), the Indo-Pacific bottlenose dolphin (
Tursiops aduncus
),
[3]
 and the Burrunan dolphin (
Tursiops australis
). Bottlenose dolphins inhabit warm and temperate seas worldwide, being found everywhere except for the Arctic and Antarctic Circle regions.
Bottle-nosed dolphins live in groups. They live in warm oceans and tropical seas. Numerous investigations of bottlenose dolphin intelligence have been conducted, examining mimicry, use of artificial language, object categorization, and self-recognition. They can use tools (sponging) and transmit cultural knowledge from generation to generation, and their considerable intelligence has driven interaction with humans. Bottlenose Dolphins gained popularity from aquarium shows and television programs such as Flipper. They have also been trained by militaries to locate sea mines or detect and mark enemy divers. In some areas, they cooperate with local fishermen by driving fish into their nets and eating the fish that escape. Some encounters with humans are harmful to the dolphins: people hunt them for food, and dolphins are killed inadvertently as a bycatch of tuna fishing and by getting caught in crab traps.
The deepest dive ever recorded for a bottlenose dolphin was 300 meters (990 feet). This was accomplished by Tuffy, a dolphin trained by the US Navy.[4] [5]
Nellie, the longest-lived Atlantic bottlenose dolphin in human care, died at age 61 on April 30, 2014. Nellie was born on Feb, 27, 1953 at Marineland.[6] [7] [8] [9]
Bottlenose dolphins have the second largest encephalization levels of any mammal on Earth (humans have the largest), sharing close ratios with those of humans and other great apes, which more than likely contributes to their incredibly high intelligence and emotional intelligence.
Community content is available under
CC-BY-SA
unless otherwise noted.