Ash's Pichu

General Information
Species Type
category:Mouse Pokemon
Homeworld
category:Pokemon World
Environment
category:Kanto(Pokemon) Inhabitants
Intelligence

Non-Sapient

Biochemistry
Carbon-based lifeform
Biological Information
Average Height
1'00" 0.3 m
Average Weight
4.4 lbs. 2.0 kg
Locomotion
Quadrupedal
Quadrupedalism
Lineage Information
Cultural Information
Personality
Lonely
Affiliation(s)
Neutral
Sociocultral characteristics
Scientific Taxonomy
Planet
Pokemon World
Domain
Eukaryota
Kingdom
Animalia
Subkingdom
Eumetazoa
Infrakingdom
Bilateria
Superphylum
Deuterostomia
Phylum
Chordata
Subphylum
Vertebrata
Infraphylum
Gnathostomata
Superclass
Tetrapoda
Class
Mammalia
Superorder
Euarchontoglires
Order
Rodentia
Suborder
Myomorpha
Superfamily
Muroidea
Family
Muridae
Subfamily
Murinae
Other Information
Creator
Arecus
First Sighting
November 17, 2019
Ash's Pichu is baby form of Ash's Pikachu and his growth was with Kangaskhan.This Pichu evolves in certain different ways by living with kangaskhan is quite different by nature of Pichu's Species.Another major differences is having Ash's Hat forms.
Personality and characteristics
[
]
As shown in Enter Pikachu!, Ash's Pichu was once a lonely wild Pichu who lived in the woods in the outskirts of Pallet Town. After falling off a cliff, he was saved by a mother Kangaskhan, who, after realizing Pichu had nowhere to go, placed Pichu in her pouch and took him into her care. Eventually, Pichu and the child Kangaskhan grew bigger, and carrying them both became a burden to the mother. Realizing this, Pichu left his adoptive mother's pouch in the middle of the night while Kangaskhan's pack was asleep. Turning back to say goodbye to his family, his feelings of gratitude caused him to evolve into Pikachu. After taking a moment to realize what had just happened to him, Pikachu finished his goodbyes and left for parts unknown.
Forms and Transformations
[
]
Original Cap Pichu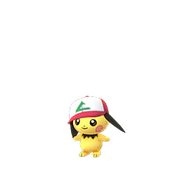 Original Cap Pichu,initally referred to in the game as Pichu/Pikachu wearing Ash's hat, appeared for a limited time during Pokémon GO's first anniversary from July 6 to 24, 2017.Hatched as Pichu, and could be either gender.Original Cap Pichu/Pikachu was later again obtainable using the GO Snapshot feature from April 1 to 2, 2019, during which the player could spawn these Event Pokémon per day with the possibility of it being Shiny.Pichu/Pikachu wearing Ash's hat cannot be transferred to Pokémon: Let's Go, Pikachu! and Let's Go, Eevee! and Pokémon HOME (in extension—to Pokémon Sword and Shield).
Original Cap Pichu (Female)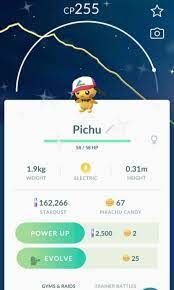 Same but gender is female.
Original Cap Pichu (Shiny)
This one is Shiny Form.
Trivia
[
]
Ash's Pichu was the first Ash's Pokémon who never evolve front of him.